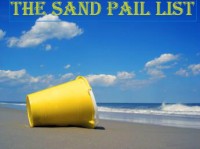 It happens every summer. The weather gets nice, the days get longer, and the summer begins. I look at the calendar,  ahh the summer is just beginning. Is there a better feeling? I get excited and start talking about all the things that I want…no.. that I am… going to do that summer. Camping on the national seashore, Cape Cod Baseball league games, Learn to kiteboard, catch as many sunsets on the beach as possible…..  I keep adding to the list, but not really checking anything off. The next thing I know I look at the calendar to see that it is the end of August. Wait? what happened? Where did it go? My list seems like it has grown rather than shrunk.
I start to panic. The discussions everywhere seem to turn to "Can you believe the summer is over?, the ads turn into "Going back to school sales", the nights start to get a little cooler. Well I am not giving up on this summer yet.  There is still time to seize some sunsets. This is where I thought of doing a  Sand Pail list(I thought I was clever, but then I saw these all over the internet). Not quite the lifelong bucket list, but a smaller version to make the most out of summer. This doesn't mean that I do not see the bigger message. Just the way that the summer passes you by, you can expand that to the years. Suddenly you realize that you are blowing out a few more candles than you expect.
Seize the sunsets people. Let's stop asking "Can you believe the summer is over?" and start asking "What are you doing with the rest of the summer?"  I know that I will not be able to get through my entire list, but I can at least cross off a few. What about making this figurative bucket into a literal one? Take the main things that I wanted to do this summer, write them down, put them in a bucket, then draw. It will make the list less daunting and I can start crossing them off. Yup………hand me a pencil, I am going to the Beachcomber. What are you doing with the rest of your summer?