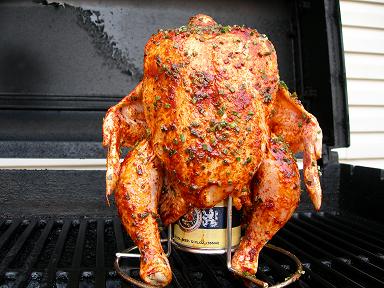 BECOME A GRILLMASTER:
What is more summer than cooking food on the grill? One of my favorite grillables is Beer Can Chicken. Combining two of my favorite things to make one perfect meal. Grilled meat and beer, is there a better combination? The chicken always comes out juicy and flavorful, You look like a grilling master, and best of all it could not be more simple to make.
What you need…
1 (4-pound) whole chicken
2 tablespoons vegetable oil
2 tablespoons salt
1 teaspoon black pepper
3 tablespoons of your favorite dry spice rub
1 can beer
What you do….
Take a whole chicken and remove the giblets. Run the chicken under water to clean it inside and out. Pat is dry with a paper towel.
Rub the vegetable oil over the chicken and sprinkle with the salt, pepper, and dry rub.
Now the fun part. Open a beer and take a few swigs. You need it to be about halfway full….yup full, we are optimists here. Now take a chicken leg in each hand and spread it out over the beer can, slide the chicken down until the legs can touch the grill. There are beer can chicken stands that you can use to make it more stable, but these are not required. Center the chicken on the grate. Make sure the chicken is balanced by the two legs and the can.
Grill the chicken over medium hight, indirect heat(Not over a burner or coals, off to the side) with the grill cover closed for 1 1/4 hours. Check the temperature in the breast area it should be at least 165 degrees to be fully cooked. If you do not have a meat thermometer, then stab it with a sharp knife, the juices should run clear. Remove from the head and let it sit for at least 10 minutes.
Congratulations you are now the GrillMaster. Could there be an easier way to make a delicious meal?
______________________________________________________________
Author: Sean McGee Head Bartender at Chatter's Demo Irish Bar